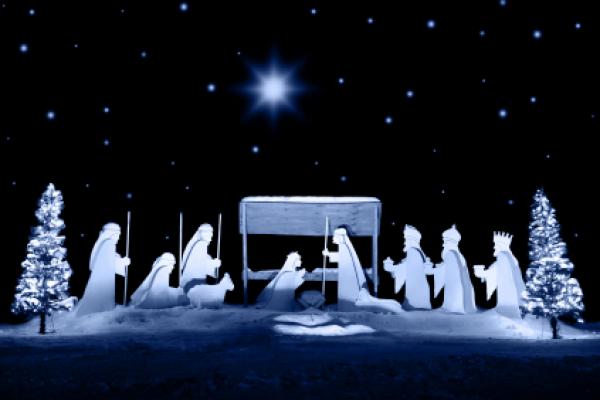 First of all, it's technically Christmas until the Feast of the Epiphany, which is on January 6th this year. The Twelve Days of Christmas are actually the days after Christmas Day. So, that's why I'm still doing my Christmas posts now.
Yeah, that's totally why.
Secondly, I wanted to happily announce that NICOLE GUZMAN has won my Christmas Giveaway. And as she lives in L.A, I look forward to giving it to her WHEN WE FINALLY HANG OUT!
And now, for my Tenth Post of Christmas…
The New Year is rapidly approaching, and is rumored to be our last one ever! While I don't necessarily buy into the Mayan calendar, New Year's Day has been my favorite holiday for a long time, because it allows us the opportunity to start over, to live with purpose, to make the decision that this year we are going to be the people we want to be. While we accomplish that to varying degrees each year, the New Year allows us all the chance to make that decision again, and to see where it takes us.
On Spotify, I have a playlist I've created called "I Fucking Rule."
It's a list of songs I've put together that both inspire me to be better and celebrate the fact that I'm already pretty fucking awesome. As the New Year approaches, I'd like to share my 10 favorite tracks from that list. Hopefully, they'll get you jazzed, too! And I'd love for you to share your favorite inspiring songs in the comments below!
1) Airplanes, Part II – performed by B.O.B, featuring Hayley Williams and Eminem
One of the few times when a remix is better than the original. I love this song, because it speaks to the dreamer in me, and to the fact that success doesn't come from sitting around wishing and hoping, but by taking action and making things happen for yourself. No one is going to hand you your dreams. On the one hand, it's entirely up to you. On the other hand…it's entirely up to you!
2) Don't Rain on My Parade – performed by Lea Michele
I listen to this ALL THE TIME. A musical standard sung by a new talent who kicks the shit out of it. Oh, life is juicy, juicy and you'll see, I gotta take my bite, sir! What better vibe to carry into the New Year? Nobody, but nobody, is gonna rain on MY parade!
3) A Mistake – performed by Fiona Apple
A song about taking pleasure in one's mistakes – because it's the only way anyone really learns anything. Also, mistakes are fun – in retrospect, if not at the time! I hope Fiona comes out with another album sometime. I miss her!
4) No Love – performed by Eminem, featuring Li'l Wayne
Bad. Ass. There's no other way to describe this song. Well, there's no other way to describe this song once you skip Li'l Wayne's lame verse and get to Eminem's GOLD about 2 minutes in. It's also the best anti-bullying video I've seen this year. And the message is clear: say what you want about me…because my talent makes me stronger than your pettiness. And while I'm generally the kind of person who will treat everyone with a certain level of love and respect, even people who've not treated me well, it doesn't mean that I'll go out of my way to do it.
5) What You Waiting For? – performed by Gwen Stefani
What AM I waiting for?
I love this song, because it's upbeat tough love. Take a chance, you stupid ho! That sounds like something I'd say to someone. Well, maybe I wouldn't call them a ho (depends on the person. I know plenty of hoes, and I say that with love), but I would definitely call them out on being stupid for not taking advantage of their potential. Wasted potential, as I've said before, is something that pisses me off. A lot. Seeing a friend with talent squander it because they're afraid just makes me angry. Knowing I have talent and don't act on certain ideas I have because I'm afraid makes me angrier. So, I'm trying to not be a stupid ho in 2012.
6) 32 Flavors – performed by Ani DiFranco
This song celebrates a woman's greatness while reminding both men and other women that said greatness isn't a threat to anyone else's. The dictionary definition of humility is "the quality or condition of being humble;  modest opinion or estimate of one's own importance, rank, etc." You can think yourself great without thinking yourself greater than others. You can use your own greatness to encourage greatness in others. Everyone is great at something, no matter how small, and we should all be proud of our talents. And we shouldn't be threatened by or jealous of the talents of others. We should be inspired!
7) Fireball – performed by Willow Smith, featuring Nicki Minaj
This girl is, like, nine or ten, and she's totally a role model to me. That, and she has an a awesome rock/hip-hop musical sensibility, and she's badass without being vulgar or acting older than her age. I love that Nicki Minaj chose to do a verse on this song, too, as she's another woman who inspires me with the sheer force of her bravado. I also love the image of a woman in the game actually helping a girl coming up in the game, rather than experiencing All About Eve-esque jealousy. This song is made of win and makes me want to do ALL THE THINGS.
8) The Show Goes On – performed by Lupe Fiasco
A song that reminds me that greatness is possible no matter what your background. Also, a reminder that once one achieves greatness, it's their responsibility to help others do the same however they can. No matter what you see when you look outside your window; brown grass or green grass, picket fence or barbed wire, never ever put them down, you just raise your arms higher. Indeed.
9) Gives You Hell – performed by All-American Rejects
Sometimes, you need to indulge in the part of you that wants to rub your success in someone else's face. Rather than doing it to someone in person, channel all that passive-aggressive energy into singing along with a song like No Love, or this one! I also love that this song is from the point of view of someone unabashedly living the way they want and not living the 9 to 5 grind just because it's what he's "supposed" to be doing. The best revenge against someone who criticizes your life choices without knowing what they're talking about is living well.
10) Pretty Girl Rock – performed by Keri Hilson
It certainly helps that I can fit my name so neatly into the lyrics – My name is Terry, I'm so very fly, oh my, it's a li'l bit scary – but I really love this song, because it too spreads the message that one can embrace one's awesome without hating on other people. It also encourages all women to do the pretty girl rock rather than be catty with each other. Love it.
Enjoy the rest of the holiday season, and here's to embracing your awesome and encouraging the awesome in others in the new year!