Day 8 – Favorite Series
Series 3 of New Who
"Smith and Jones", "The Shakespeare Code", "Gridlock", "Daleks in Manhattan", "Evolution of the Daleks", "The Lazarus Experiment", "42″, "Human Nature", "The Family of Blood", "Blink", "Utopia", "The Sound of Drums", "Last of the Time Lords."
Series 3 of the new Doctor Who is a series where even the uneven episodes tackle themes and issues that are important, and are about more than mere frolicking through time and space in a blue box.
Not that there are many uneven episodes. The reason why Series 3 stands out as my favorite is because it contains many of my favorite episodes. "Human Nature" and "The Family of Blood" (which I praised as my favorite episodes HERE) and "Blink" (whose heroine I praised HERE) are my top three. However, I also love "Smith and Jones", which provides a wonderful introduction to the fabulous Martha Jones, as well as the equally fabulous Judoon. "The Shakespeare Code" is just sheer fun. Who wouldn't want to hang out with Shakespeare if they could? "Gridlock" was a surprising and emotionally affecting story that I loved because it examined faith in an interesting and heartfelt way.  "Utopia", "The Sound of Drums", and "The Last of the Time Lords" feature The Master, Doctor Who's most complex and thrilling villain (played impeccably by both Derek Jacobi and John Simm), Martha at her most extraordinary (how anyone can hate on her after she walked the Earth in order to save the universe is beyond me!), and The Doctor at the height of his faith in humanity. He completely puts his life in the hands of Martha (again) and the world, because he trusts that they will do what they need to do and step up when the time comes.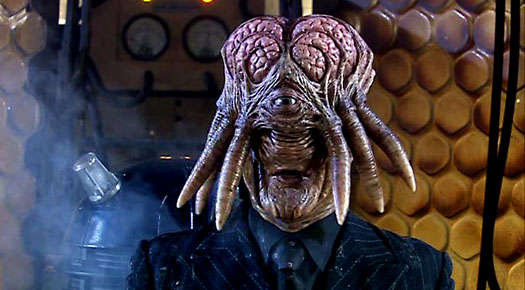 "The Daleks in Manhattan"/"Evolution of the Daleks" had a lot wrong with them (not the least of which was huge historical inaccuracies and Noo Yawk accents that were horrendous), but the idea of a Human-Dalek hybrid like Dalek Sec is hugely interesting to me – that being human is about more than our cultures or environments; that there is something innate down to our DNA that makes us who we are. "The Lazarus Experiment" and "42″ are filler standalone episodes, but they're quality filler, both dealing with human survival at any cost. Even these seemingly weak episodes have something to offer.
So there you have it – Series 3 of new Doctor Who is my favorite season of the show for its near perfect, consistent quality, and the ideas and themes explored.